Cosplayer Lutavia is here with some words of wisdom for future cosplayers – served with a side of Bela Dimitrescu's spooky cosplay!
We've been covering Houston Comicpalooza cosplays for years, and this year we're back. The show is always tough on cosplay, with a wide range of genres and fandoms represented. Their cosplay contest is fierce, and this year we had the chance to interview some of the contest judges and winners. Today we sit down with Lutavia cosplay!
Hello, I'm Lu, a non-binary Texan cosplayer who not only makes but educates! My cosplay career has spanned from small scale workshops of less than 20 to presentations for over 100. I have organized and designed photo shoots for custom products and taught cosplayers all over the world how to use tools cool to make creating them much easier. And I've done a wide variety of projects from intricate, weathered weaves to beautiful draped fabrics. If you need a cosplayer for your event who does a bit of everything, check out my press kit!

-Lutavia
How did you get into cosplay? How long have you been creating your projects? What inspires you to work in cosplay?
I started cosplaying after college, but was very inspired by hiding on the internet as a pre-teen and finding cosplay.com. I went to my first convention when I was about 13 and immediately fell in love with costumes, but really wanted to learn how to make my own. I've only been doing my own stuff for about six years now (many of my friends have been doing it for a lot longer, think 10-15+), but the constant challenge and innovative ways to incorporate new techniques keeps me going.
What are your favorite completed cosplays, or your most popular?
I think my favorite finished cosplay is my newest, a Viera man from Final Fantasy XIV. This one was quite popular due to some of the techniques I used and the fact that it's a little rarer. But my Shieldmaiden Brigitte cosplay, from Surveillanceis by far my most popular.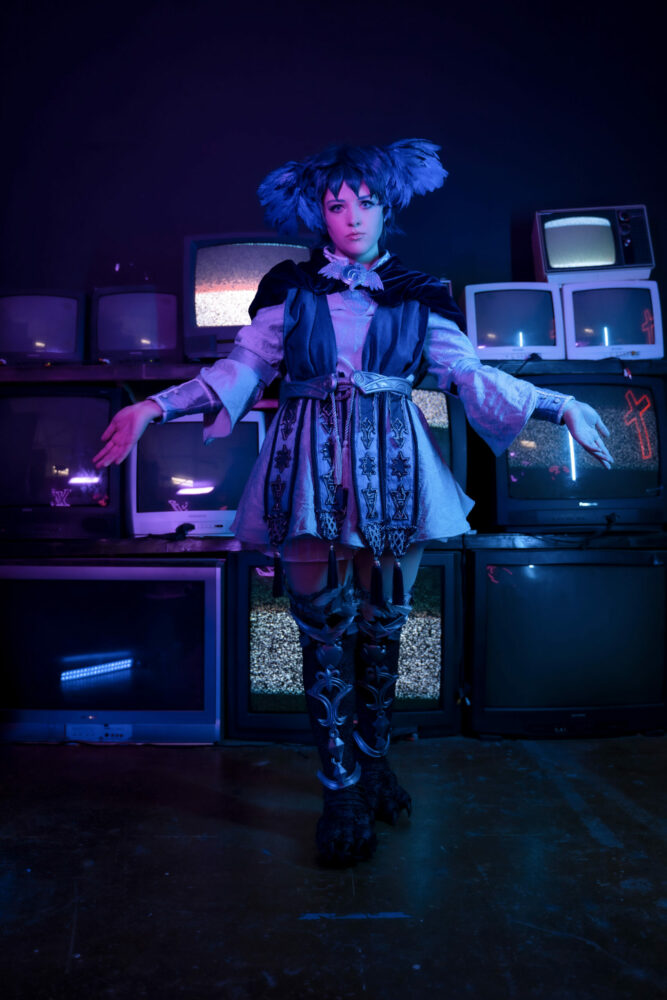 What conventions do you attend? Have you been invited/spoken on panels/participated in contests?
I've mostly guested on the Texas circuit (Comicpalooza, Oni-Con, Delta H, Anime Frontier), but I've been on other counters, including Fan Expo Dallas and PAX South and PAX West. I participate A LOT – cosplay education is the most important thing to me, so that's what I try to do with every jerk I visit!
What criteria do you use to judge cosplay competitions?
So, first off, I'm strictly using convention judging criteria – every jerk judges costumes in different ways. But in my personal judgments and how I add points to scores, I look for cleanliness of work, logical and thoughtful decision-making (from material selection to assembly), and someone's personal vision on the suit and why it stands out. I also strongly appreciate the exploration of new techniques, but that will never weigh more than clean work!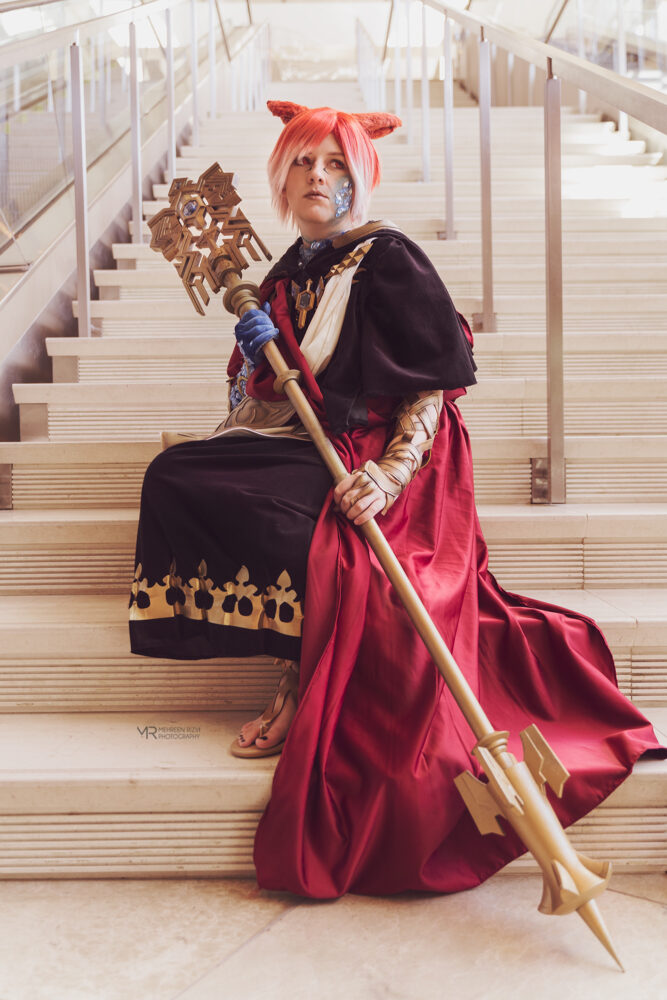 What is most important to consider as a judge?
As a judge, I have to consider every little part of the costume, but I also need to see the big picture: what story is the cosplayer trying to tell, and does he tell it effectively? I think as a judge you have to be thoughtful about that.
Subscribe to our newsletter!
Get Tabletop, RPG and Pop Culture news straight to your inbox.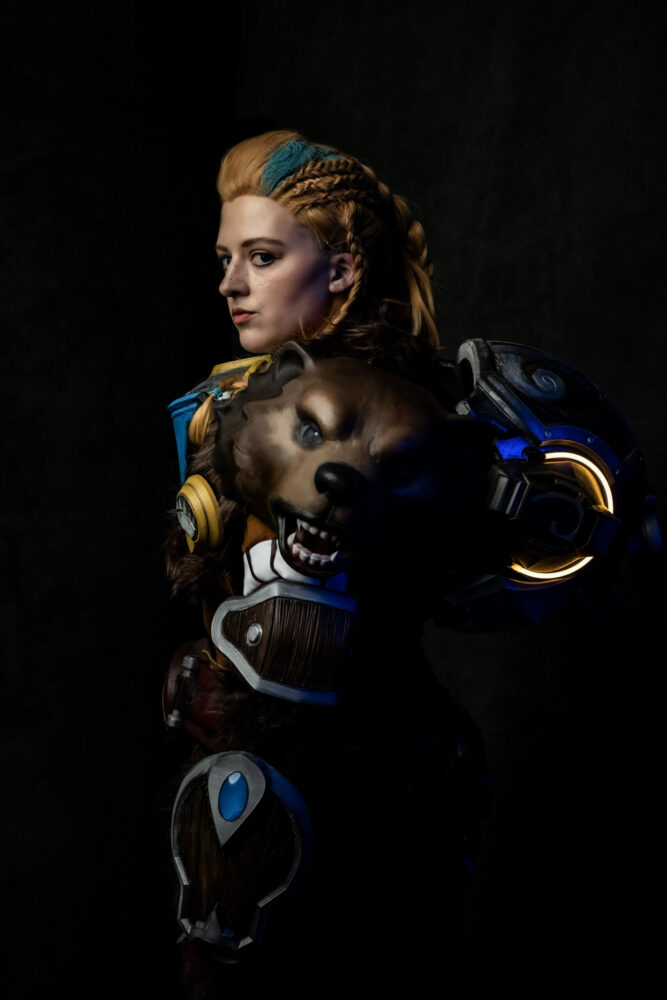 What advice do you have for cosplay judges?
I really think that as a judge you absolutely have to be thorough. Maybe you haven't personally made prom dresses, but follow people who do; ditto for the seamstresses following the gunsmiths. Expose yourself to a wide range of mediums and techniques and familiarize yourself with as many as you can, because you never know what someone will bring to the judgment room.
If you're the only person in the room who understands how difficult 3D modeling of organic shapes is, for example, or who understands the work involved in making multiple petticoats — even if you haven't, you will be able to judge someone with these things, and sometimes you will be the only judge who actually KNOWS these things, and you will be able to educate your fellow judges. You could literally be the difference between a job that went unnoticed and someone's first prize.
Which category/division do you enjoy judging the most?
In fact, I love judging novices/beginners. This is by far my favorite category because you never know what they will bring to the table. I was completely floored, and I feel like every year the bar rises even higher for people's "first costume".
What was the most exciting cosplay you've seen/judged in competition?
Oooh, that's really hard, actually – I feel like every jerk has costumes I'm thinking of. But I tend to think about the awards of my judge's choice that I give out the most, actually! My first was a group of Shugo Chara, all tweens, making props out of Amazon boxes and plastic bottles and it looked like foam because they had no money – it was so awesome.
The second was a Sakura (from naruto) who made historically inspired samurai armor and wove his own shoes! More recently it was actually a Mipha from The Legend of Zelda, which had all these beautiful story-appropriate details that weren't in the original design – very thoughtful. I think it's always people who are a bit unorthodox, creative, or really think about what their character's clothes are saying, visually, that hold me back.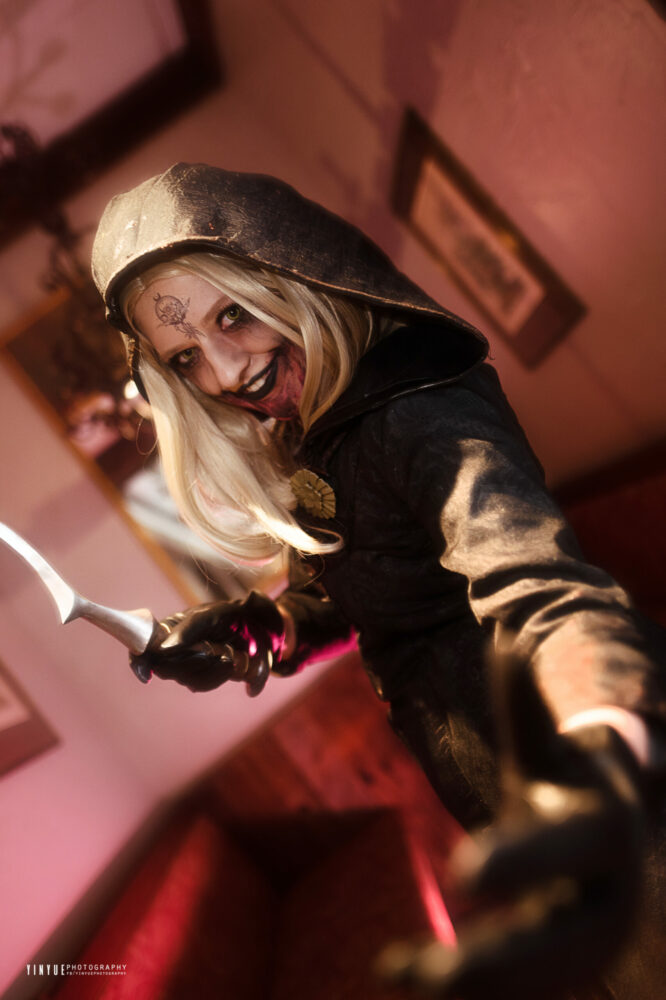 What are your favorite fandoms? Favorite characters?
In fact, I really like video games, comics, anime and manga. Some of my favorite stuff is darker media – Berserk, Monster, etc. – but I really like JRPGs like Final Fantasy and tactical games, like Tactical Ogre. I think if the characters are strong, I'm naturally quite inclined to get into it! Some of my favorite characters are definitely the ones I cosplay, haha ​​- I made Asuka from Neon Genesis Evangelion for example, as well as Dimitri from Fire Emblem: Three Houses.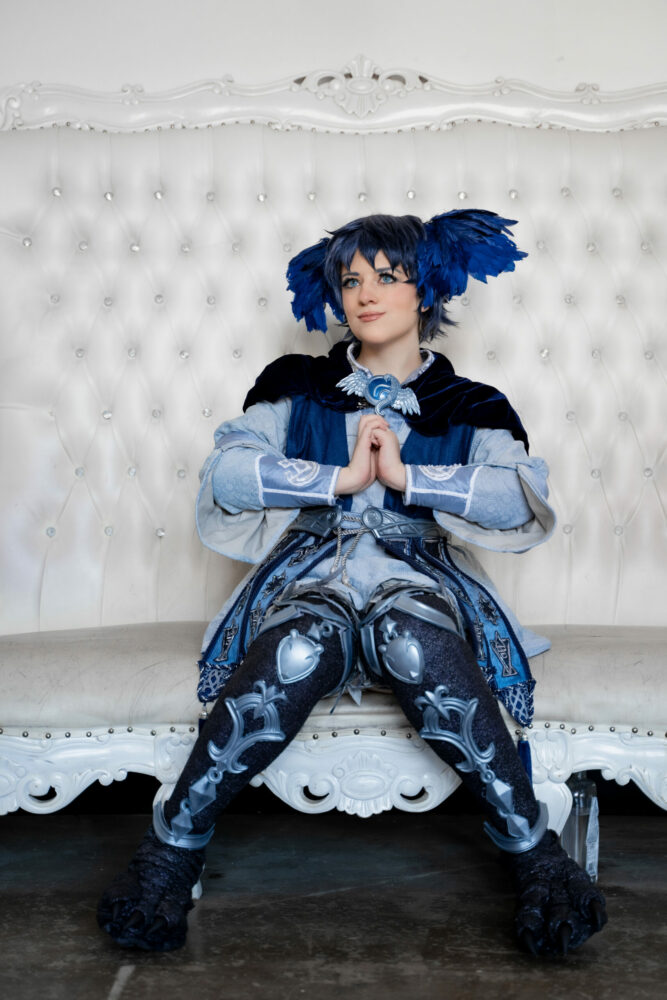 What kind of games do you play? Video games? Table top? War games?
I love video games – RPGs, JRPGs, action/adventure type stuff – but I've also played a lot of board games and still do sometimes. Tabletop also holds a dear place in my heart, especially TTRPGs – I've played Dungeons & Dragons since the 3.5th, and I also played shadow run, Scoutand some indie games like monster hearts.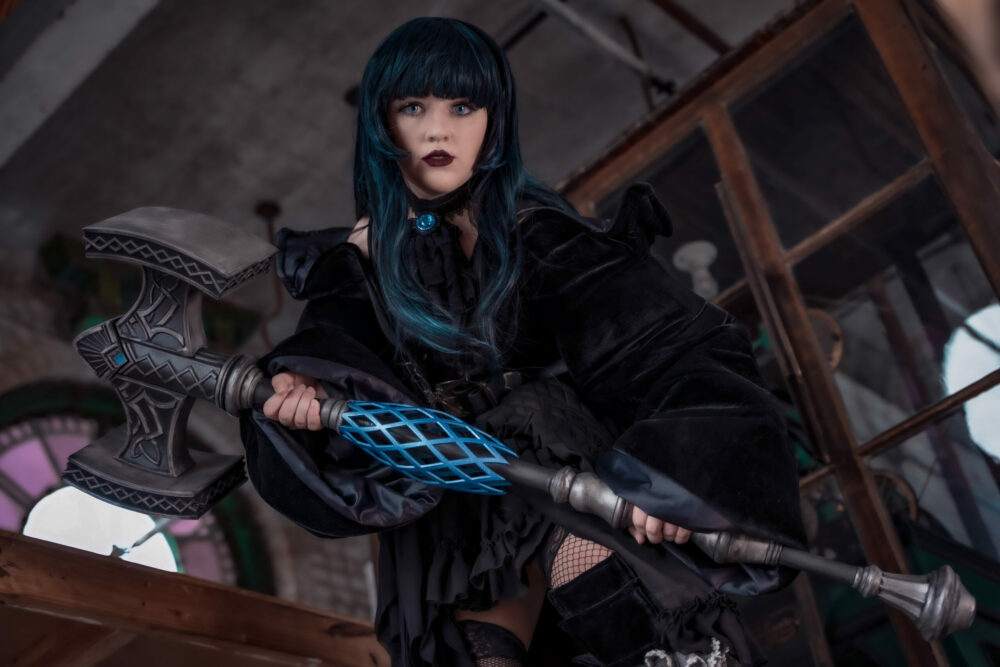 What are your cosplay inspirations? What work do you admire or aspire to?
Wow, that's hard! So my own close friends are my inspirations, honestly, but I have a few that I look up to, all I'm lucky enough to know – Cowbutt Crunchies is a great one, their work has influenced mine so much , so many ways – but I also really love BambiLashes, DecemberWynn, Sarcasm-Hime, Spookystitches, all from a craft-inspired perspective. Their costumes are very "lush" and influence my choices a lot, I think!
But I think from an education point of view, people like Kinpatsu Cosplay, LightningCosplay and Pretzl Cosplay inspire me even more, because they also focus a lot on cosplay education, which I am very passionate about!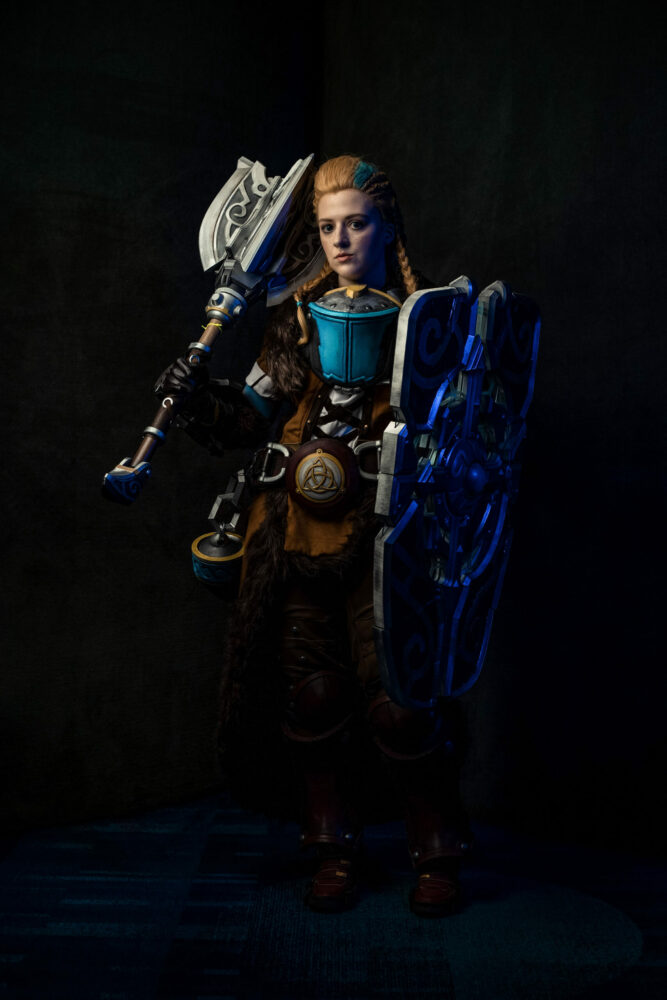 What message do you have for people wanting to break into cosplay? What did you learn working in cosplay?
I really recommend that you don't ask yourself the question "who should I cosplay?" Who do I look like?" Because it doesn't matter! I'm a 5'3″ blob who cosplays giant 6'2″ emo men – don't let that stop you at all! that you feel comfortable learning to make (or buy!), depending on your lifestyle, schedule, and budget. I think that's the most important thing I learned: there will be other downsides, so take your time, be determined in the costumes you choose, relax, and be kind to yourself!
Something important that we left out that you want to share?
For me this hobby has been a big part of my life in friendships, personal growth, finding out who I am, even some really awesome work opportunities so I really encourage you to try and cosplay your way, whatever it is! Buy, make, modify and be proud of it – wear something and go have fun, since cosplay literally means "costume play", and that's what it's all about!
What are your social media/website links? Where can we find you?
I am @LutaviaCosplay mostly on Twitter (building discussions! WIPs! random thoughts!) and very lightly on Instagram, but I also have my website, LutaviaCosplay.com, where I also have my press kit and build guides and panels and all that fun stuff!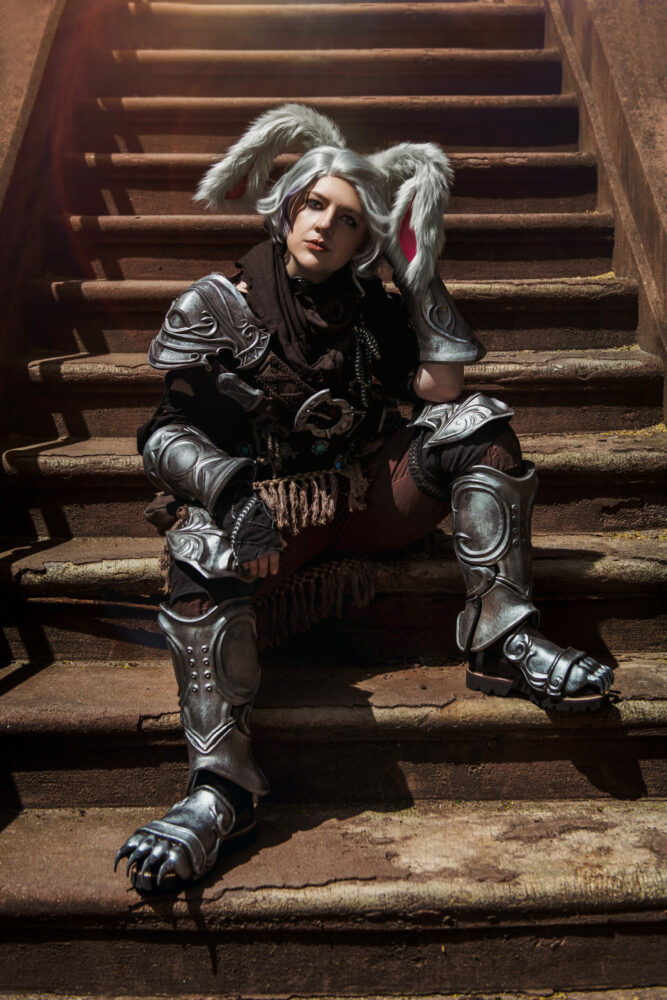 ~Join us next week for more cosplay coverage~
Got a cosplay question you'd like Mayhem's Muse answered? Know a Cosplayer you'd like to see featured? Send an email here!

Jennifer aka "Mayhem's Muse" is BoLS' Managing Editor and handles advertising sales and communications. Her cosplay awards include the RTX Judge's Choice Award and Dragon's Lair Austin's Cosplay Symposium. Jennifer has been a cosplay guest judge at RTX, Tacticon, and Genghis Con in Colorado. She regularly attends conventions to cover BoLS cosplay. Her cosplay work has been featured in publications such as Girls Who Love Monsters, Geek Fuel, and Renaissance Magazine. Jennifer has participated in the Her Universe Fashion Show, Precision Camera's annual Precision Camera University, and has led several workshops for photographers on partnering with cosplayers and creative muses/models. Jennifer has been a lifelong retro video game enthusiast and loves dungeons and dragons, urban fantasy, tabletop gaming, VR technology, and historical archery. She set national records in USA Archery's traditional division for Asian bows and won 4th place at the World Nomad Games in Kyrgyzstan in 2018 for Korean women's archery. Jennifer is currently studying for her Masters in Organizational Leadership.