sergeant. Karen Hermiston was Canada's only female photographer during the Second World War.
Yet most Canadians are likely unaware of Hermiston's name, military service, or photographs.
Francesco Bori is working hard to change that.
Bori designed, coordinated and curated the Legion Experience Museum (LEM) — a collection of nearly 800 Canadian artifacts from WWI, WWII, Korean War, going back to the War of 1812 — a museum accessible and inclusive, diverse and child-friendly space inside Royal Canadian Legion Branch 286 in Rexdale.
The Legion Experience Museum will open to the public on Remembrance Day.
An exhibit of Canadian military women who died in service can be seen at the Legion Experience Museum at Royal Canadian Branch 286 in Rexdale. | Photo by Francesco Bori
The collection curated by the museum focuses on telling lesser-known stories of the war efforts of Canadians, especially those on the home front, and of people who identified as women, Indigenous, 2SLBGTQ+, Black and people of color.
Bori acknowledged that some people's point of reference for LEM might be the Canadian War Museum in Ottawa.
"How do we stand out? By the stories we tell," said internationally-award-winning filmmaker Bori. "I believe in the power of storytelling. Hopefully, when people leave LEM, even if it's just one piece, there's so much to take in that they have a wealth of experience.
Discover the wartime contributions of Canadians through artifacts, documents, personal testimonies, photographs and interactive audio-visual experiences, including a Dunkirk exhibit with sound and wind effects.
The museum's website, lem-to.org, is now online.
A LEM artist call is currently open. The work of artists related to the collection and its theme should rotate monthly at the museum.
Artist Sammie Tzambazis' inaugural work on peace and reconciliation, a bespoke poppy and animal sketches, will open the museum on November 11.
The museum should then be open on Fridays, Saturdays and Sundays from 11 a.m. to 3 p.m.
Email [email protected] to inquire about contributing artwork or working at the museum as a qualified volunteer.
Youth education will be an important priority for LEM, Bori said.
He plans to hold presentations for children on topics related to school curricula and important dates and occasions, such as sharing old love letters on Valentine's Day.
"You are never too young to learn history," said Bori, a father. "Yes, horrible things happen in all wars. But what happened is part of our history. This place makes it possible to learn these things in a friendly way.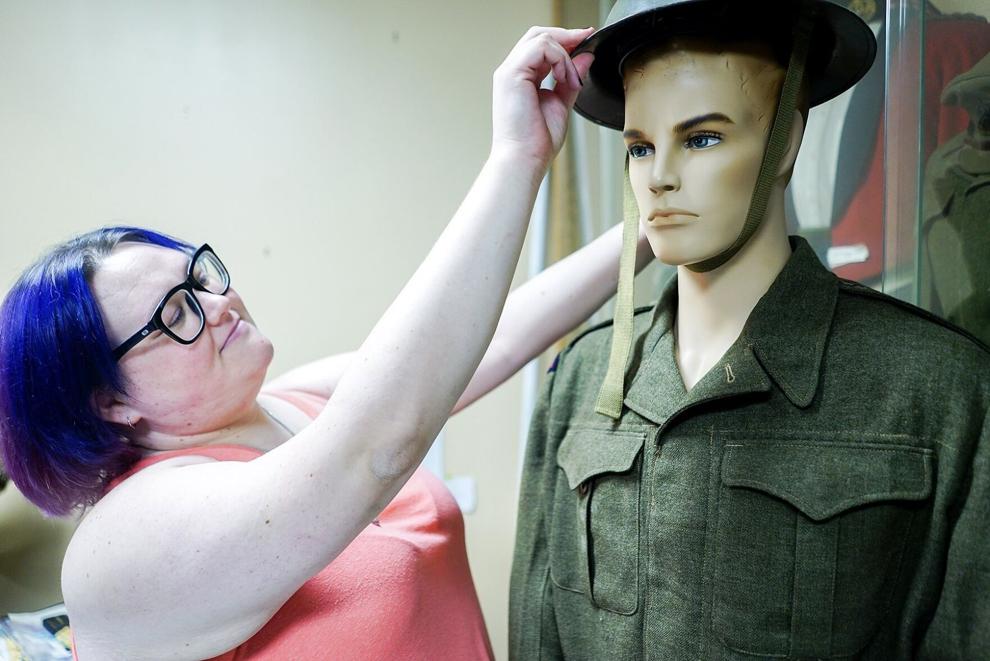 Megan King, Recording and Research Associate at the Legion Experience Museum, adjusts a helmet believed to have been worn by a Canadian Artillery soldier, most likely during World War II. | Photo by Francesco Bori
Megan King, an enrollment and research associate at the Legion Experience Museum, met Bori and other team members as classmates in a museum and cultural management course.
King said she jumped at the chance to partner with Bori on the project.
"I've always been interested in world wars; my grandfather served in World War II," she said, noting that a previously broken leg had kept him from serving on the front lines. "He was driving a medical truck. He was in England, in France, in Italy, in Germany. He saw many deaths and horrible things.
Later, King learned that his other grandfather had been a member of Legion Branch 286 as the son of a veteran father.
The pandemic has forced King to catalog and research more than 700 significant artifacts from photos taken of them.
The names of people identified certain items. Stamps marked where some helmets and rifles were made. If King was "lucky", an item was marked for a year; she would google it to find its manufacturer; where it was made; its history and use.
A 1943 Christmas menu from the front lines particularly struck King: "Even though they were at war, they still celebrated Christmas.
The handwritten letters and journals moved King the most.
"You feel like you see into this person's life," she said. "It gives me a personal connection to someone in the past who may not be there anymore or whose story is untold. These objects always give me goosebumps.
---
STORY BEHIND THE STORY: Reporter Tamara Shephard wanted to report on the progress of the Legion Experience Museum as it nears its opening this Remembrance Day.