No matter how hard she tries to leave, Alyssa Story, a double major in film, television and media and journalism, always ends up in the newsroom. And with a last name like Story, it's no coincidence that she has a natural talent and passion for writing.
"I'm such a boring reporter," Story said. "I only do journalism."
Story adopted this identity in high school, where she served as the editor of the school newspaper. She was a "newspaper kid" and often spent her lunch time in the newsroom.
She also grew up as a journalist outside of school, writing for a local women's magazine, working as a producer for a youth radio station, and even appearing on a New York Times summer show.
By the time Story came to LMU, she had gained a wealth of knowledge and experience under her belt. However, she had decided it was time to quit journalism and "reinvent" herself.
This plan did not last very long. Her natural magnetism for journalism took over, and two weeks into her freshman year, Story found herself sitting in Loyolan's office, ready for the next chapter of her writing career.
Story decided that if she returned to journalism, she was going to give it her all. She added journalism as a second major and set herself the goal of becoming editor of Loyolan, which she accomplished two years later.
However, its initial move to Los Angeles was abruptly cut short when the campus closed in March 2020 due to the COVID-19 outbreak. Along with the rest of Loyolan's staff, Story—who was serving as an opinion writer at the time—began writing and producing articles for Loyolan's website from home.
Nevertheless, the impact of his writing has not waned.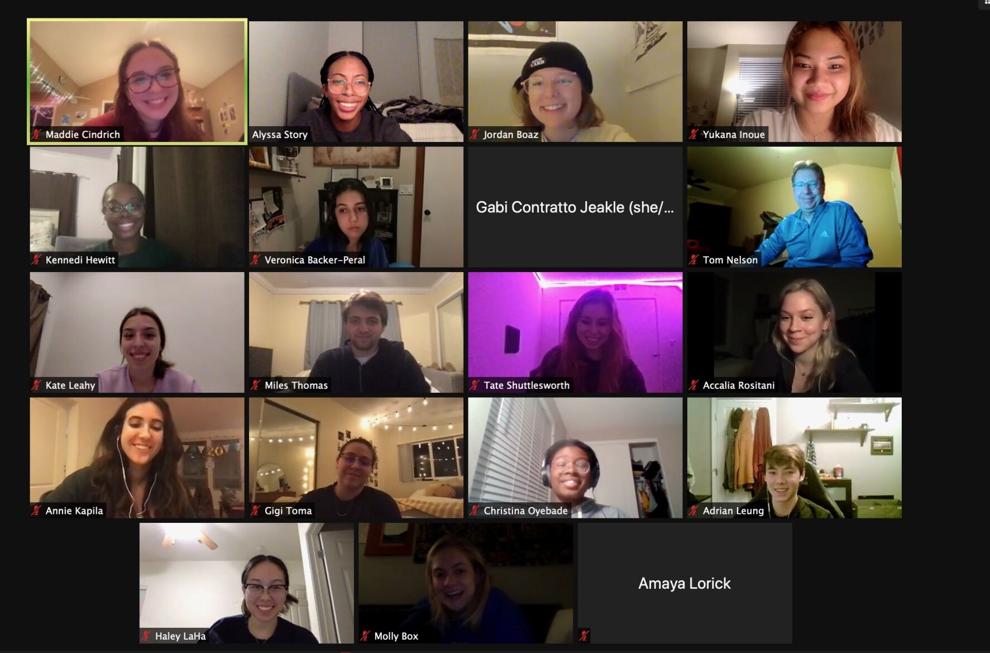 During the lockdown, Story returned to her home in Minneapolis, where she watched her hometown mourn the murder of George Floyd and continue her fight for justice. Although she had previously walked away from writing about race as a black journalist, she felt compelled to expose police brutality and comment on race relations in America. Those feelings gave way to one of Story's most poignant pieces, "On George."
"When you write, when you start covering the race, especially as a black journalist, it can become a kind of expectation of you. It's something I intended to avoid just because I didn't want to be a reporter locked into racing coverage," Story said. "But, you know, I was kind of at the epicenter of events, so it was important for me to talk about what was going on."
She said she "didn't expect anything specific" or imagine the impact the publication of On George would have on LMU. Story just wanted his voice to be heard.
"On George" gave a personal look at Minneapolis and the inequality that plagued his beloved hometown. It became one of Story's most impactful and award-winning pieces and even won first place in the Columbia Scholastic Press Association's Gold Circle Awards.
Still writing from home, Story rose through the leadership ranks at Loyolan, rising from opinion editor to deputy editor, and was finally named editor-in-chief in February 2021. Although her responsibilities at Loyolan changed, one thing that remained constant was unpredictability. to work in a university newspaper.
As Story was about to board a plane for Baltimore with her family, she saw that Rosalie "Rosie" Cruz, a female LMU athlete, had posted a series of tweets alleging serious "psychological abuse" of the part of coaches. Several LMU female athletes have followed suit by sharing similar stories, catching the attention of the entire LMU community and beyond.
Story and Loyolan's management team dropped everything to report on the allegations.
"I just remember this weekend being in hotel rooms and cars, and conducting interviews…and talking to these girls as they told us super vulnerable stories," he said. said Story.
A few days later, Story was on a plane to Minneapolis, when she received a text with an audio clip from LMU President Timothy Law Snyder, Ph.D., calling the abuse allegations "incorrect." There was some debate within the management team about whether or not the Loyolans should release the audio clip. They knew their decision would impact LMU Athletics and the lives of countless athletes, so there was no time to waste. Story immediately bought the Internet in flight and got to work.
She vividly remembered talking on the phone in the car after landing, as her parents were driving through snowy Minneapolis at midnight.
"My mom was like, 'Stop talking on the phone. We get it, you're in journalism. And I was like, 'No, this is important. This is serious,'" Story recalled. She and the rest of the team eventually decided to post the audio on Loyolan's website and social media.
"It was just crazy, but it came together and ended up being a really powerful story that caused real change on our campus," Story said.
After a year and a half of Zoom meetings and working on time zone differences, Story finally returned to the newsroom as editor in fall 2021, ready to take on a new set of challenges that the year would bring.
"Going back in person was hell," Story joked. Along with a long list of regular editor-in-chief responsibilities, Story led Loyolan through a transition to all-digital publishing.
"Alyssa has undoubtedly endured one of the strangest tenures of any EIC, taking the helm at the height of the pandemic while Loyolan staff were in their pajamas working entirely remotely, then trying to manage the transition to real life in the fall of 2021," said Tom Nelson. , director of student media and adviser to Loyolan since 2003.
When Loyolan converted to an online-only publication, the bright blue newsstands around campus became relics of a pre-pandemic lifestyle, and the importance of a strong social media presence has become increasingly evident. Story took the initiative to create a cohesive style guide for Loyolan's social media accounts, working with Kate Leahy ('22), Story's associate editor and former design editor.
Haley LaHa ('22), former Loyolan editor, appreciated Story's efforts to lead staff through the transition. "We've been really successful in bringing in new students and recruiting new writers while continuing to publish great stories," LaHa said. "Throughout the year, we were able to build closer relationships with each other."
Any former editor can attest that the job is anything but easy, let alone doing everything from home for the first half of the term. After completing her year as editor of Loyolan, Story pursued her passion for writing at Editorialist magazine and recently became a member of the CalMatters College Journalism Network.
While she's not sure exactly where her career will take her after graduation, it's a safe bet it will be in the media or journalism. "There is no Alyssa without journalism," she said. "It's just who I am."